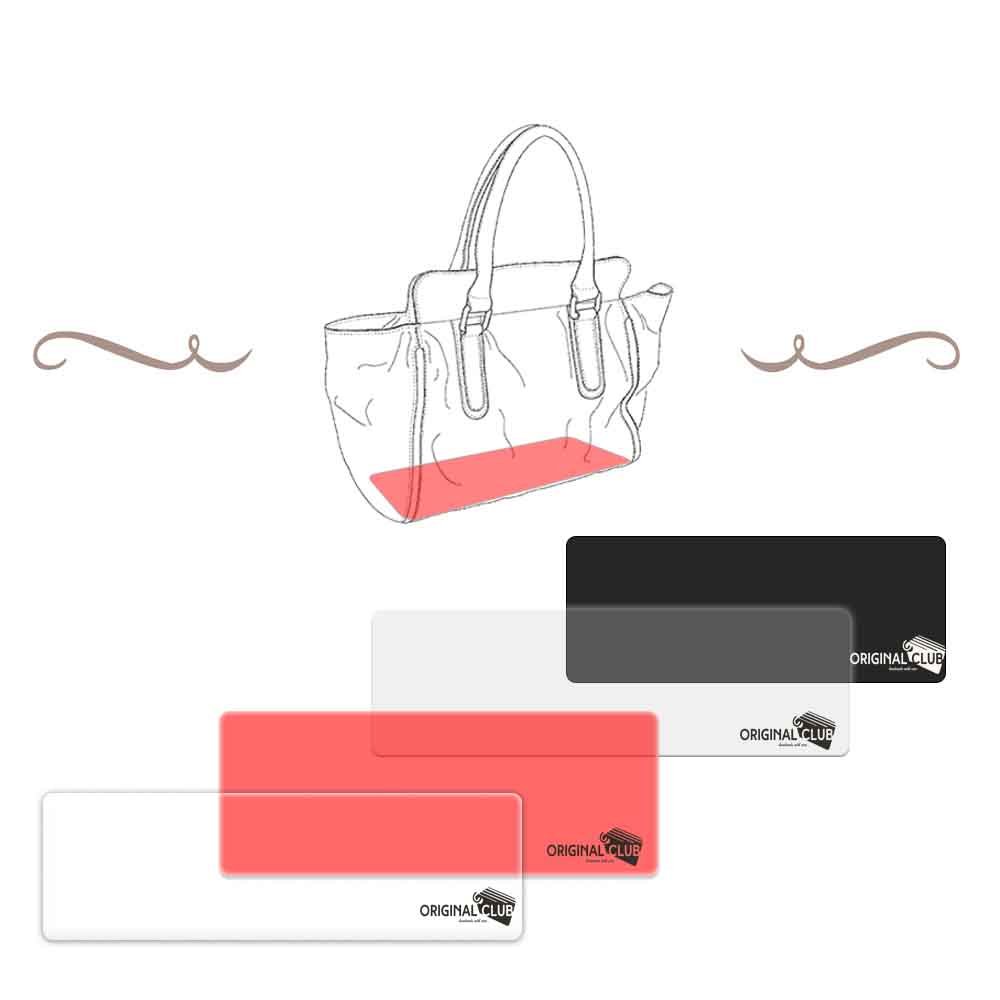 Handbags have a saggy look when you put your belongings into it.

Our quality half transparent (with colors) and fully transparent (clear) acrylic base shapers would enhance the look of your handbag when you carry your bag on the go.

Acrylic base shapers have a lightweight and durable material.

Acrylic base shapers eliminate sag in your handbag. Your bag does not have a saggy-looking with up to 6lbs inside.

Made of 3 mm (0.11" ) thick acrylic material and clear-cut by laser cutting machine.
Custom Size: Acrylic base shapers are laser cut to fit in your handbag, tote bags or purses.
Available colors: Red, Black, Pearl White and Transparent (clear)
How to order a custom size handbag base shaper for your bag:
​
1) Select the color you prefer for the base shaper
2) Add to the cart
3) Go to the cart and add a note to Original Club for the "length and width" of the base shaper you like to order.
4) Complete the order by checking out.
What if you are not sure what size of base shaper you need for your handbag?
Measure the bottom of your bag's length and width. ( You can see measuring guide at the images) The inside of your bag base will be slightly smaller than the outside bottom measurements. Subtract about 0.5" or 1.25 cm from the measurements you have found out. ( For example: If your bag bottom measures 12" x 6". Then the base shaper size should be 11.5" x 5.5" )
Available Colors: Red, Black, Pearl White and Transparent ( Clear )
About the organizer
Material
Acrylic (plexi glass)
*Estimated FedEx/DHL/ UPS Express Shipping / Transit times.
Your order will be delivered within the following days after order processing and local customs event completed.
Order processing and handling time before shipment: 3 working days

The estimated delivery times after shipment
1-3 Days to the United States
1-3 Days to Canada
1-2 Days to European Union / Non-European Union Countries
1-2 Days to the United Kingdom
2-4 Days to Australia
7-10 Days to Australian Suburb /Towns
2-4 Days to Asia
All of our items except for the customized or personalized items can be refunded in case of

damages,

losses

,

defects

, broken

or corrupted goods caused by us.

However,

any damages caused by the misuse of items are not covered by a

refund

.

Custom and personalized items can not be refunded due to the fact that they are specially made for our customers.

Buyers are responsible for the shipment of return items. It is required for buyers to pay for return shipping cost in any case.

Cancellation of "made to order" items can be accepted only within 24 hours after placing the order. Since your item would be completed, If you exceed this time frame, your cancellation would not be accepted.

Shipping costs are not refundable even for the free shipping items. Only the cost of good can be refunded. We deduct the shipping cost out of free shipping price of the item and make the refund.

For more details please see our refund and cancellation policy.
Custom Size Acrylic Bag Base Shaper,Handbag Bottom Shaper