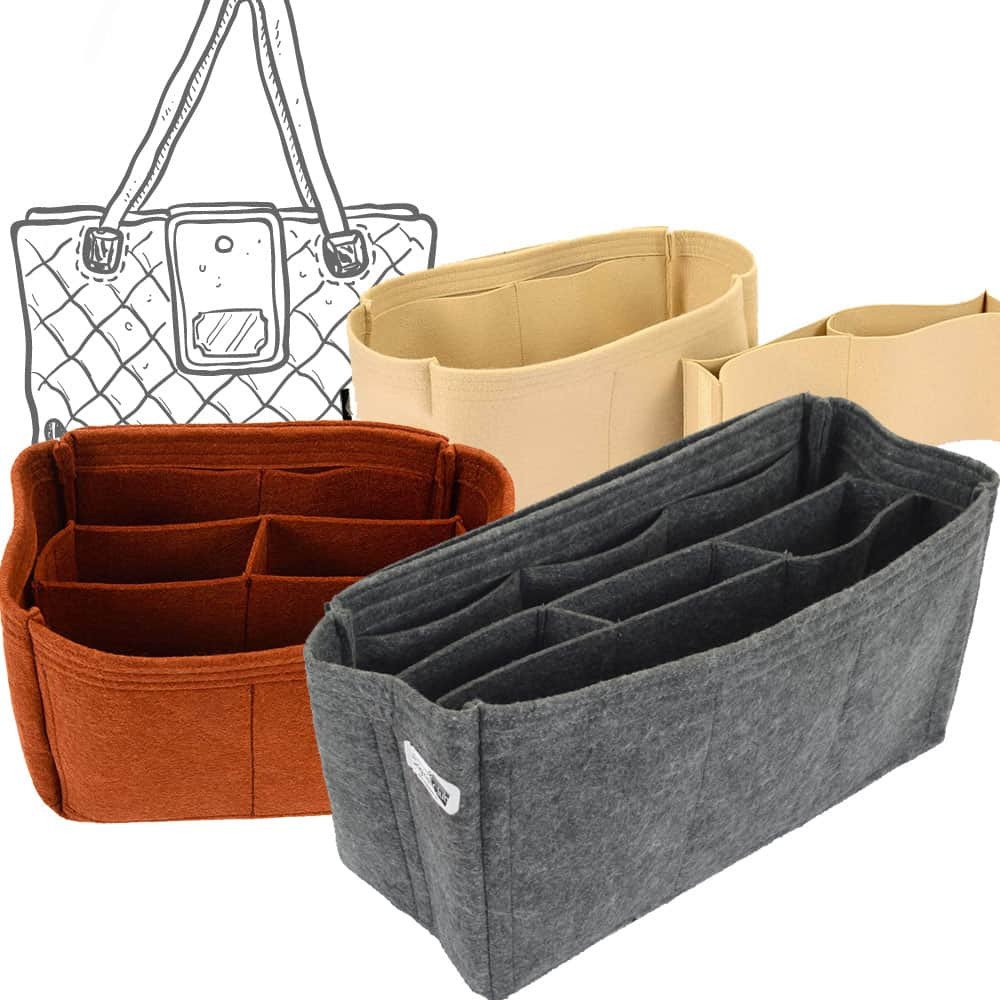 Felt purse organizer with a removable middle compartment that is custom made for any brand of handbags, tote bags, or purses.
Many women are in distress with the messiness of their purses and bags. Now you can organize your makeup accessories, wallet, tablet PC, mobile phone, books, ID, and many other personal items with this stylish and very useful felt purse organizer.
The organizer is made of 3 mm thick felt, so your items in your handbag do not move or slide. You can keep your things organized and make them easy to find.
Purse Organizer with middle Compartments has 2 or 3 extra sections attached with hook and loop fasteners in the middle where you can put your personal belongings inside and get more organized.
Before placing a custom order, please note that ...
We solely custom-make organizers for handbags if they are not our standard size.
We only carry the standard size handbags. Furthermore, we do not carry all the handbags that are on the market.
Since we do not have your handbag, we have to rely on the measurements you advise us.
Dimensions that are taken from product pages are usually misleading and cause misproduction. Please do not copy and paste the dimensions from the product link.
Please be patient during the process and answer your messages/emails daily.
Please do not be agitated with the processing time since we want to make sure the measurement is given correctly.
Custom orders are tailored to customers, and we do not accept returns.
Pocket configuration for small and medium-size handbag organizers (Below or equal to 35 cm (13.8") length): The organizer has 5 pockets and 2 or 3 compartments (4 regular interior pockets + 1 tablet PC pocket + 2 or 3 compartments depending on the length) in total.
Pocket configuration for large and x-large handbag organizers (Over 35 cm (13.8") length):The organizer has 7 pockets and 3 compartments (6 regular interior pockets + 1 tablet PC pocket + 3 compartments) in total.
Custom Size: We adjust the size of the bag organizer according to your handbag or tote bag. Write the length, height, and width (depth) of the handbag organizer you need for your purse into the text area at options by indicating the dimensions as L, H, and W. (For example 30 cm (L) / 15 cm (H) / 10 cm (W) or 12 in (L) / 5 in (H) / 5 in (W), etc...).
** Important note: "The felt organizer with middle compartments cannot be made for slim size bags. The organizer width must be equal to or more than 13 cm (5.1 inches) and the height must not exceed 25 cm (9.8 inches). Please check for other styles if your bag size cannot meet these requirements." **
How to order a custom size handbag organizer:
1) Select the color you need from the options. (You can check the available colors at the color chart tab).
2) Write the size of the handbag organizer you need as Length x Width (depth) x Height into the text area and proceed with adding the item to the cart.
How to know the size of the handbag organizer you need:
Measure your handbag from inside to find base width, base length, and interior height.
Please refer to the custom size guide at the tabs for details. You will see an illustration and a video for the measurement instructions.
* Product color may slightly vary due to photographic lighting sources or your monitor settings.

About the organizer
Material
Acrylic (polyester) Felt
Matching Model
Custom
Number of Pockets (compartments)
8-10
Estimated FedEx/DHL/ UPS Express Shipping / Transit times.
Your order will be delivered within the following days after order processing and local customs event completed.
Order processing and handling time before shipment: 3 working days
FREE SHIPPING WORLDWIDE for orders of 120 USD and more.
*Some territories are in Australia (Tom price,Tazmania,Northern Territory) are not eligible for free shipping.
| | | | |
| --- | --- | --- | --- |
| DESTINATION | SHIPPING IN DAYS | PRODUCTION IN DAYS | ESTIMATED DELIVERY IN DAYS |
| United States | 4-5 | 3 | 7-8 |
| Canada | 4-5 | 3 | 7-8 |
| Europe* | 1-2 | 3 | 4-5 |
| United Kingdom* | 1-2 | 3 | 4-5 |
| Australia* | 4-5 | 3 | 7-8 |
| Asia Pacific | 4-5 | 3 | 7-8 |
* Some addresses in the shipping zones (Australia, Europe and the UK) indicated in the table may be considered as a remote area which is a postcode or in the absence of postcode, a suburb /town name that is difficult to serve. Express Shipping and delivery to such addresses would attract a remote area surcharge of 25 USD that will be asked to be paid prior to process your order if you prefer an express delivery. We can still ship by regular post without an additional cost to these addresses.

Duties & Taxes

USA: No tax or duties for orders below 800 USD.
AUSTRALIA: No tax or duties for orders below 500 USD.
CANADA: Deliveries may be subject to import duties at the time of delivery, VAT or taxes at the receiver's expense.
EU COUNTRIES: As of July 1, We are required to charge VAT on orders from our customers located in EU countries for orders below 150 €. There will be NO additional TAXES AND CUSTOMS FEES at the time of delivery. Our customers in EU will enjoy faster delivery!
SWITZERLAND: The upper goods value limit (including transport costs) for a VAT-exempt import is: CHF 65.00 for shipments with 7.7% VAT. CHF 200.00 for shipments with 2.5% VAT (reduced rate)
OTHER NON-EU COUNTRIES: Deliveries may be subject to import duties at the time of delivery, VAT or taxes at the receiver's expense. The fees vary by country and we are unable to calculate this in advance. If the customer refuses a shipment, they are responsible for the original shipping fees, import fees, and the cost of returning the package.
WE GO GREEN:
We support environment friendy transportation with our shipping partner DHL for the deliveries worldwide by DHL Express. DHL offers a number of service options for minimizing and/or avoiding logistics-related emissions, waste and other environmental impacts along your entire supply chain.
Delivery options in the US and Canada:
FedEx provides delivery with a signature or without a signature at the front door throughout the united states and Canada. You can select one of the delivery methods on product pages.
Delivery with signature will require an adult signature and pickup by a person.
What happens when the customer is not at the address at the time of delivery?
FedEx attempts one or two times to deliver packages to the addresses. The package is held at FedEx location for customer pick up if there is no one at the given address. FedEx can provide an extra local delivery to the same or updated address for a fee that must be paid by the customers. The local delivery service fees vary from 15 USD to 25 USD depending on the location. Customers can either go to the FedEx location to pick up their packages or pay for the fee for another delivery to their addresses.
Delivery without a signature can be provided by FedEx by leaving the package in front of the door or on the pouch. Customers accept all responsibilities once they opt for the delivery at their front doors. Packages are left and the shipping company never rings the doorbells.
Made of synthetic 3 mm thick felt
Dry clean is convenient or clean with damp cloth

Can not be bleached

Iron to press seams with cool steam setting if necessary

Remove food stains by scraping

Wipe off spills immediately
All of our items except for the customized or personalized items can be refunded in case of

damages,

losses

,

defects

, broken

or corrupted goods caused by us.

However,

any damages caused by the misuse of items are not covered by a

refund

.

Custom and personalized items can not be refunded due to the fact that they are specially made for our customers.

Buyers are responsible for the shipment of return items. It is required for buyers to pay for return shipping cost in any case.

Cancellation of "made to order" items can be accepted only within 24 hours after placing the order. Since your item would be completed, If you exceed this time frame, your cancellation would not be accepted.

Shipping costs are not refundable even for the free shipping items. Only the cost of good can be refunded. We deduct the shipping cost out of free shipping price of the item and make the refund.

For more details please see our refund and cancellation policy.
Custom Size Chambers Style Bag and Purse Organizer